Muhammad Hafiz bin Jenalis - R&D Engineer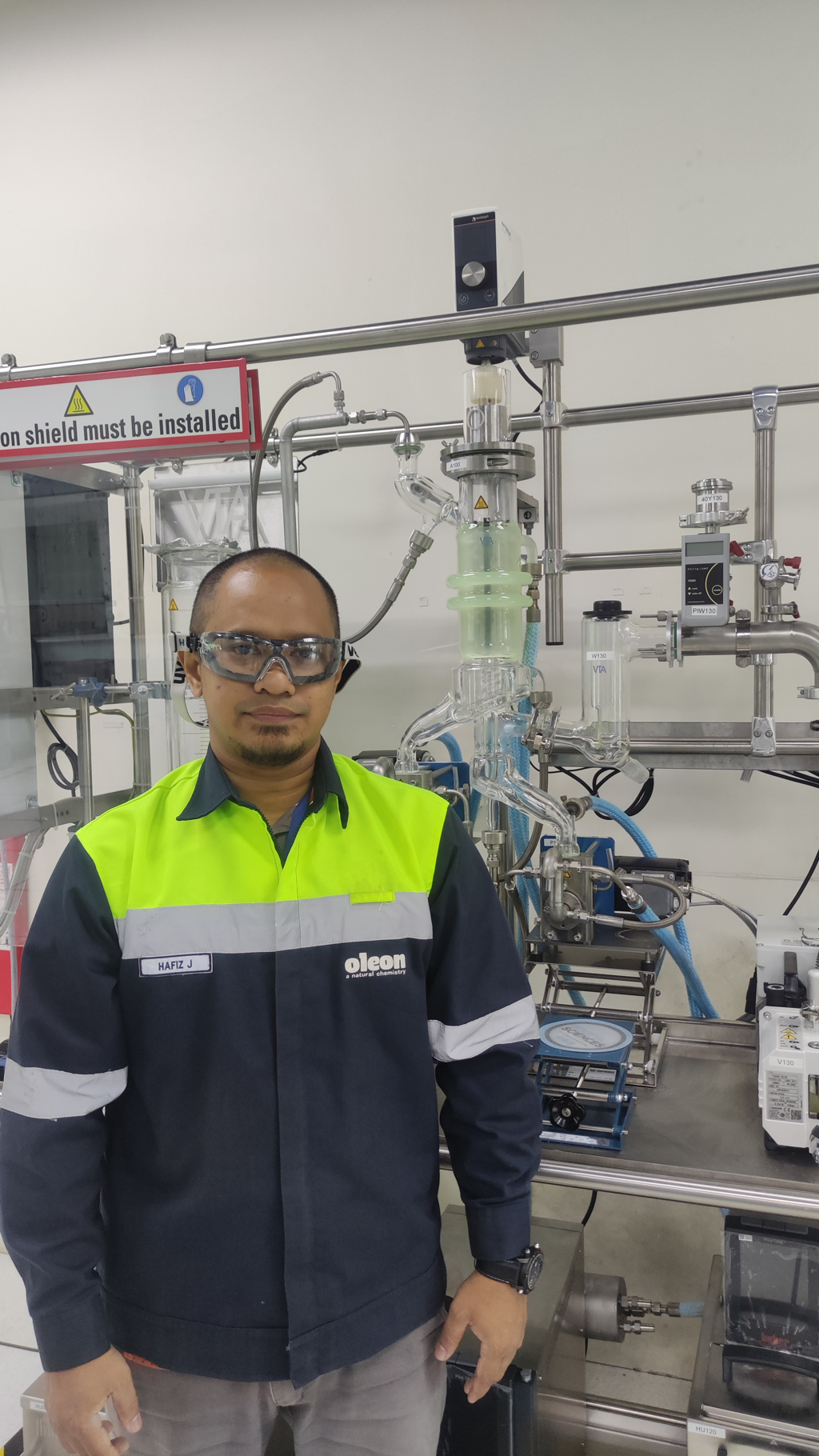 Name: Muhammad Hafiz bin Jenalis
Date of birth: 31/07/1987
Field of study: Science physics and petroleum processes
Location: Port Klang Sdn Bhd
Why did you initially choose to work for Oleon?
My interest in chemistry led me to a chemical and manufacturing company. Oleon is a multinational company (MNC) and in Malaysia it is recognized as a reputable company. Being able to be part of Oleon, a multinational company is something that I am proud of.
How long have you been working at Oleon?
I have being working with Oleon since December 2012. I started as a R&D analyst and my current position is R&D engineer.
What are some of the job duties at Oleon?
My 10 years of working experiences in Oleon exposed me to many different duties and responsibilities. I started working in the process department by supporting the team in performing synthesis and analysis of raw and final product. The job duties in this role includes analyzing product to provide a solution and working plan to ensure that the final product is within a certain specification. When I was promoted as a R&D engineer, the job duties were different and it was a more challenging working environment. The challenges gave me the excitement, thrill and determination to achieve more despite unavoidable stress. My current job duties now focuses on the lubricant pathway. It involves creating new formulated lubricant oil and the synthesis of new high performance additive molecules. I also provide synthesis support and product analysis for customers based on requests from our sales and marketing colleagues.
What does your average day look like?
The first few days of the week are critical for me as it will impact the rest of the work days in the week. On the first day of the week, I usually follow up on incomplete tasks and make plans for the whole week. If an additional urgent task comes up, I will give priority to it by trying to slot it into my planning. Every week, we will have an internal meeting to share the findings and status of our projects. We also take this time to share ideas and opinions to help us achieve our objectives. I also participate in periodical meetings with the marketing and sales team, supplier and the lubricant team in Oleon Venette & Oelegem to share information on our projects, findings and market outlook.
Do you feel that your specialisation is well-aligned to this job?
I would not say it is not completely aligned, but there are some knowledge and skills that are quite useful in performing my role. My experiences in the previous companies was able to help me assimilate into my current working environment and to achieve the goals of my projects.
The technical skill trainings and webinars that I have attended also increased the level of my understanding and built my knowledge. This brings value to my projects and indirectly to the company itself.
What does working at Oleon mean for you personally?
Personally, I think the working culture in Oleon is good and the colleagues here are friendly and very supportive. Having a great team leader is a benefit too.  My team leader often guide me and provide support to me. Working in Oleon helps me achieve my personal goal and professional growth. I have gained a lot of knowledge and experience during my time in Oleon.  
What are the benefits of working at Oleon?
Working in a multinational company such as Oleon provides a lot of benefits in term of salary and social security. A good social security gives me peace of mind to support my family. Furthermore, there are opportunities for career growth with the recent implementation of Hays grade. It helps me plan for a career advancement within Oleon.
What are the benefits of the R&D Engineer role?
R&D is related to being creative and innovative. Being a R&D engineer, I am able to explore more about the current products in the market, product developments and I have a platform to unleash my creativity. It is very satisfying to develop something new and innovative as it adds value to myself, especially when a pattern from my own development project is published. It is also fulfilling to create a product that attracts the interest of customers and to see the product industrialize in the plant.
What challenges does your job present?
In a large company,  there are a lot of knowledgeable and experienced R&D people, including technical experts, product specialists and professors. They also have a big team of R&D that can help them to further boost their product development. In comparison, the small R&D team here may sometimes face challenges in competing with these larger teams when adapting to the fast moving and evolving market. The limited number of specialists and experts can make the competitiveness gap in the market even larger.
Our values
Discover the three values we care about.
Get in touch
We offer a personal approach on any of your troubles.