Oleon opens Europe's most innovative oleochemistry plant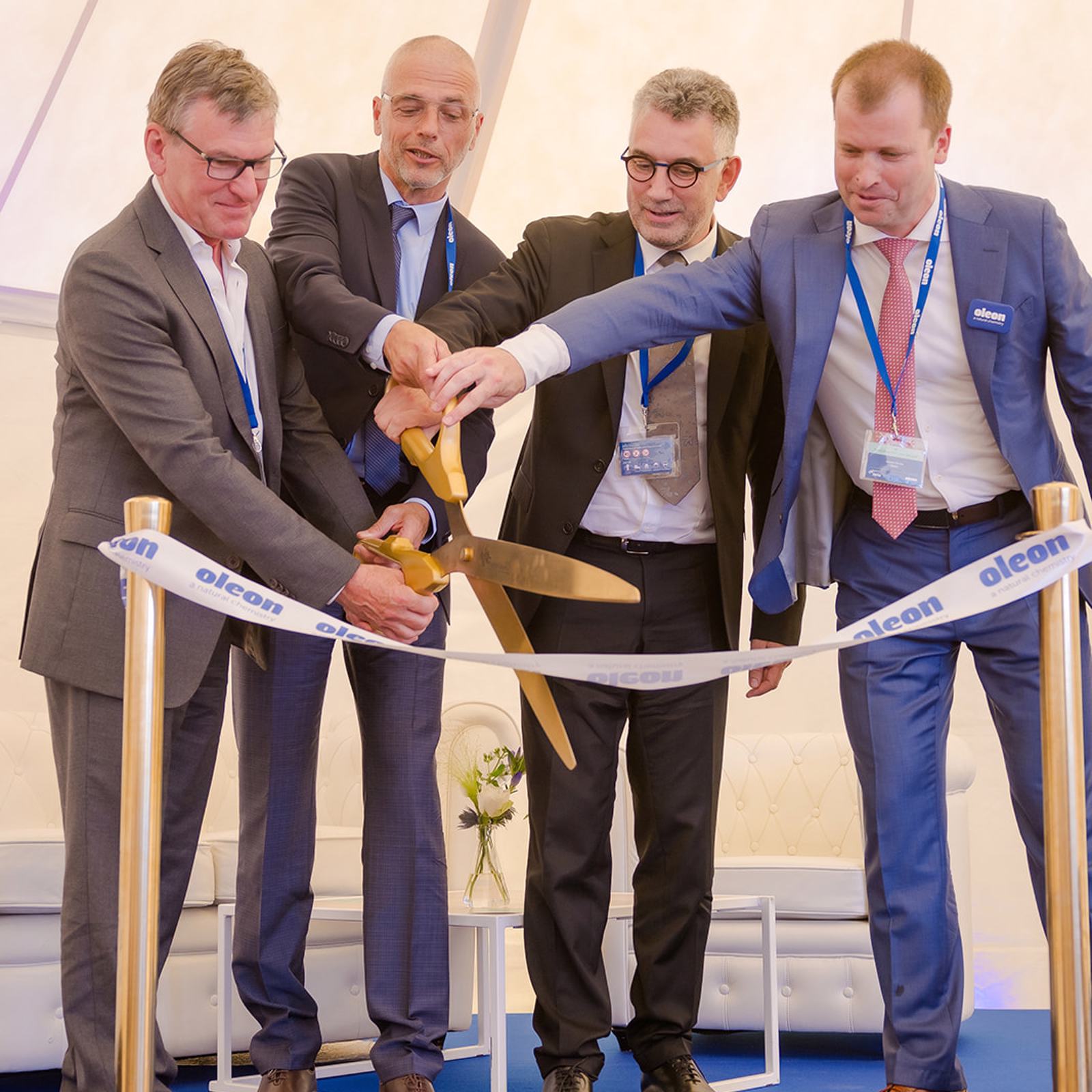 Europe's most innovative plant for the production of sustainable oleochemicals has been opened in Oelegem, near Antwerp. "This will enable us to greatly reduce the CO2 emissions from the production of enzymatic esters for the food and cosmetics industries, amongst other sectors, while at the same time producing significantly less waste. A real 'gamechanger'," says Jeroen Dirckx, Managing Director Derivatives at Oleon.
Over the past few years, over one hundred Oleon employees and engineers have worked intensively on this unique new installation. This afternoon, it was officially opened by Johan De Ryck, mayor of Ranst, in the presence of numerous guests from Belgium and far abroad. The plant is located along the Albert Canal and is thereby directly connected to the Port of Antwerp. From there, numerous companies around the world will soon be supplied with sustainably produced esters made in Belgium.
Specifically, the plant works on the basis of so-called enzymatic esterification. This means that the esters are produced with only natural building blocks, i.e. proteins or enzymes. This has been made possible through an innovative technology developed by Oleon together with seven other companies, research organizations and academics, within the European research program INCITE. Its advantages are considerable, to say the least. For instance, this new process drastically reduces the working temperature during the process, while also increasing product quality.
Environmentally friendly industry
The brand-new plant ultimately reduces CO2 emissions from production by more than 40% and reduces waste production by 60%.
"We are incredibly proud that with our new plant we are helping to pave the way for a more climate-friendly industry in Europe. Indeed, the benefits of this technology will not only impact the chemical industry. They will have an impact on lower-carbon production of food, cosmetics and lubricants. We consider this primarily a starting point. Continuing along this path, we are capable of bringing about impactful changes in the European industry in the long term. And this, together with our partners from the INCITE program." Moussa Naciri, CEO of Oleon.
Shipping 3,000 tonnes of esters
From now on, 3,000 tonnes of sustainably produced esters can be shipped annually from Oelegem via the Port of Antwerp.
"I am very happy that Oleon has chosen its Oelegem plant for a very important future-oriented investment. The environment and global warming are impossible to ignore today. Natural basic products, reduction of CO2 emissions and lower processing temperatures justify this investment. Through the port of Antwerp, Oleon's products are distributed worldwide. Despite the fact that Oleon is an international player, the ties with the local community have not been neglected. And that is very valuable too." Johan De Ryck, mayor of Ranst.
Consumer expectations
At Oleon, sustainability is not just a company slogan, it is put in practice every day. The European market leader wants to respond to the new generation of consumers who demand bold solutions from industrial players.
"The chemical industry is making huge strides in sustainability and fantastic momentum is building. As an international company, we recognize that we have a responsibility to lead the way and be an example of where the industry needs to go. In addition to initiatives in production and research, we are therefore increasing our efforts to collect raw materials in a climate-friendly way and also make packaging and distribution more sustainable." Jeroen Dirckx, Managing Director Derivatives of Oleon.
Oleon regards the Oelegem plant as a test case. The company wants to use its accumulated knowledge from the past years and coming period to consider investments in its plants worldwide.